Introduction
The Imbotero Research Center (IRC) is a new field facility designed to accommodate international researchers in biological sciences, environmental studies, and cultural/ethnographic subjects.
It is situated in the Barima-Mora Passage Area (BMPA), the largest intact mangrove ecosystem in Guyana, with good access to the Shell Beach Protected Area, one of the world's premier nesting places for several species of sea turtles.
It offers comfortable, convenient accommodations to researchers and greatly simplifies the logistics of conducting field research in this environmentally significant region, where accommodations and support services are generally difficult to secure.
Researchers are invited to submit proposals for the use of the Center to the Guyana Marine Conservation Society (GMCS).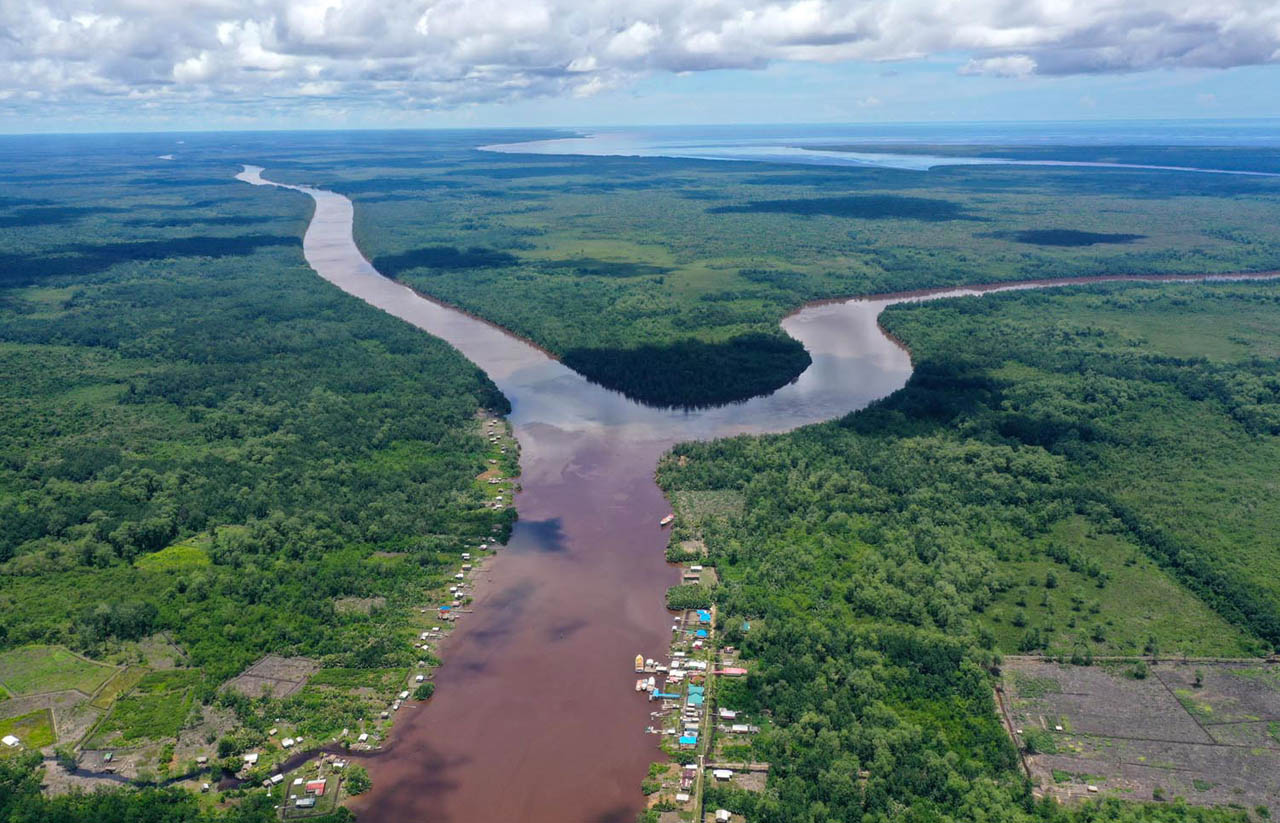 Area Overview
Mangrove ecosystems are among the planet's most important tropical Social-Ecological Systems (SES). The Barima Mora Passage Area (BMPA) in Guyana's Region 1, which falls within the Amazon eco-region, spans 46,700 ha, of which approximately 14,010 ha are mangroves, making it the country's largest and most intact mangrove ecosystem. Located in the country's northwest, the BMPA ecosystem is a mosaic of wetlands that extend from the brackish parts of the lower Kaituma River, to the Shell Beach Protected Area (SBPA) on the Atlantic coast, and west to the Orinoco Delta in Venezuela.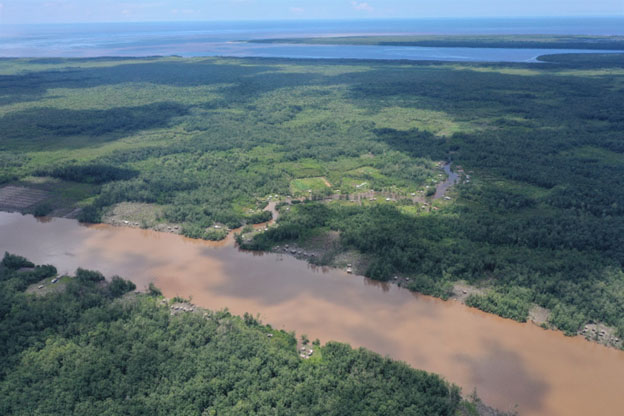 The Barima Mora Passage
It is a biodiversity hotspot that includes six International Union for the Conservation of Nature (IUCN) listed endangered species. Dynamic hydrological networks weave through a mosaic of interconnected wetlands linked to the Atlantic Ocean, making the mangrove ecosystem an important nursery for fish, crabs, shrimp and other aquatic species on which pelagic and human communities depend for survival. It is home to the Indigenous Warrau people, whose ancestors settled here during the Paleoindian period. Warrau and other nearby communities include Morawhanna, Smiths Creek , Arouca Mouth, and Imbotero, with a combined population of about 1,200.
Imbotero
Imbotero, the gateway to the Barima Mora Passage, is community of Indigenous Warrau people on the border with Venezuela. It is the point of entry for increasing numbers of migrants from the Orinoco Delta. Of a population of approximately 429, some 365 are Guyanese Warraus and 64 are Warrau migrants. The area has no roads and few areas are walkable: all transportation is by canoe or power boat.
Imbotero Community
The IRC is located on tidal Imbotero Creek, which is occupied primarily by Guyanese Warrau, with a small population of migrants. A larger community of migrant Warrau reside on the opposite shore of the Barima River. A small shop that sells food, household essentials, and gasoline is on the Barima beside the Creek's mouth. There are few other commercial establishments.
The main economic activities in Imbotero are fishing, crab catching, subsistence farming and harvesting of non-timber forest products such as medicinal bush honey, crabwood seeds, and hearts of palm. A few men and boys work in small-scale industrial fishing, gold mining, and forestry, mostly on a seasonal basis. Handicraft production, mostly pursued by women, includes items such as baskets, handbags and tibisiri hammocks. Few other economic opportunities are available to girls and women.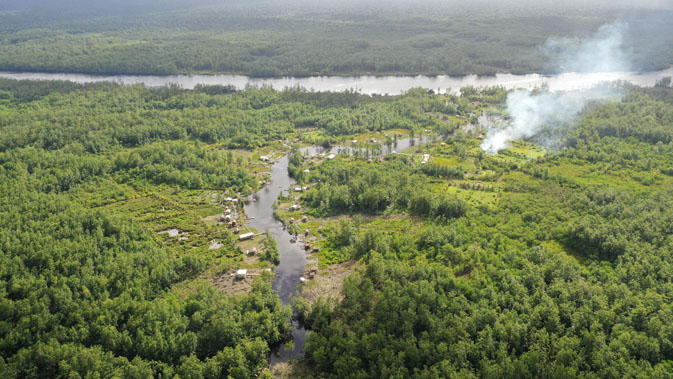 The Research Facility
The IRC is a "home base" for researchers working in the Barima Mora Passage Area and the Shell Beach Protected Area. It has beds for up to six researchers in two bedrooms, a common area, a dining area, and a kitchen. The bathroom has running water, a flush toilet, and a shower. A solar panel array, AC inverter, and battery bank provide reliable 24-hour electricity (110-120V, American style plugs). Mobile phone service is available, although somewhat weak and intermittent. There is no WiFi.
Housekeeping and home-cooked meals are provided. Researcher-guests are welcome to use the kitchen when meals are not being prepared.
IRC can arrange transportation from Kumaka/Mabaruma, 45-60 minutes away by boat, and from the Center to your field location on a daily basis. Canoes, paddles and life vests can be made available for a fee.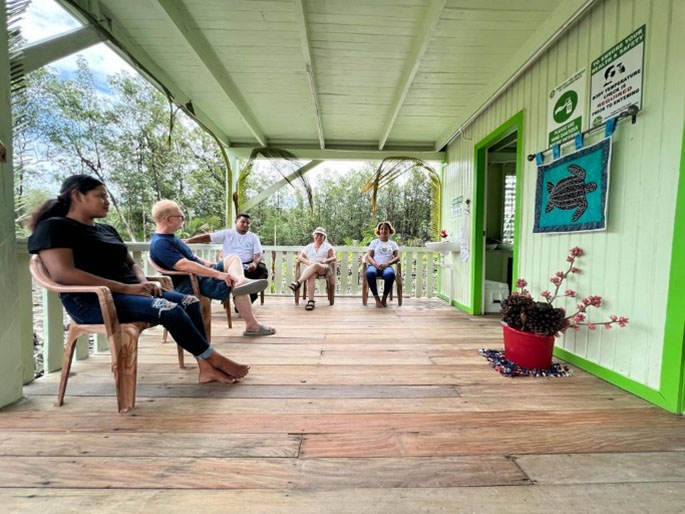 Benefit Sharing, Capacity Building
The indigenous communities that live within the BMPA will be the primary beneficiaries of the emerging "research tourism" initiative as well as the stewards of this invaluable natural capital once it is preserved. Every international researcher at the IRC is required to have a local counterpart in order to build capacity that remains in the community. This will bring much needed income to the community and will also build local capacity in research, with local women and men participating.
While you are here, you will be assisted by a guide trained by the Guyana Tourism Authority to help you navigate the cultural and physical landscape.
GMCS sponsors a Wildlife Club for the young children of Imbotero, which meets weekly at the IRC. Age-appropriate presentations to the club by visiting researchers are sincerely appreciated.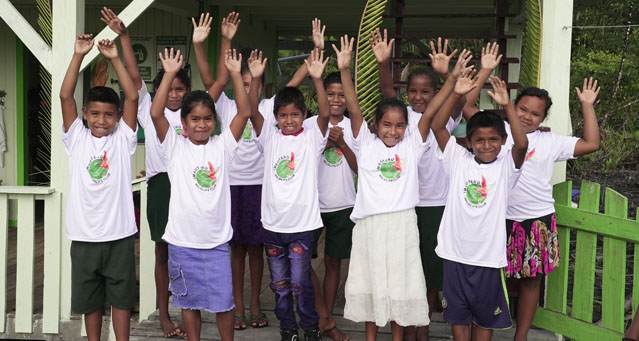 Sustainable Solutions Through Partnerships
Guyana's expanded Low Carbon Development Strategy 2030 ( LCDS2030) includes Biodiversity, Watersheds and the Blue Economy, all of which are all found within the BMPA. A recent study by Conservation International (CI) on irrecoverable carbon has confirmed the BMPA as the largest and most intact national repository of Blue Carbon.
The IRC has just completed hosting its first international researcher, a PhD candidate from the University of Southampton (UK), who conducted an ethnographic research from April to June, 2022.
The Guyana Marine Conservation Society spearheaded the initiative to make Shell Beach Guyana's only coastal protected area in 2011, and engaged with the BMPA communities on solutions in 2020. As two government buildings on Shell Beach were being compromised by the encroaching sea, GMCS sought and received the support of the Regional Administration for the two buildings to be donated. Both were dismantled and relocated to Imbotero, where they were recycled and repurposed into Guyana's first Coastal and Marine Ecosystems Research Center, where thematic areas of research include: Climate Change; Mangroves; Blue Carbon; and Warrau Culture.
GMCS has partnered successfully with several organizations to establish the IRC and to get it up and running. The Iwokrama Research Center which is Guyana's oldest and premiere research center for over twenty five years is supporting the IRC in building out its research program. Dalhousie University (Nova Scotia, Canada) is donating equipment to create a field laboratory here. The University of Texas has included Imbotero in its camera trapping project which started in February 2022 and will be completed in May 2022.
Priority Research

Budget

Air, Road, River transportation and accommodation and local counterpart costs